Welcome to our list of 100 Japanese girl names and their meanings. Japanese culture is known for its unique and rich history, artistry, and traditions, and Japanese girl names perfectly reflect this heritage. The names on this list are filled with beautiful meanings, inspired by nature, virtues, and important aspects of Japanese history and mythology.
Each of the 100 names on this list has a unique and special meaning, adding depth and significance to a baby girl's name. For example, Hana means "flower," while Sakura means "cherry blossom." Names such as Ayumi express a "walk toward the future," while Eriko signifies a "child of blessed righteousness."
Japanese girl names are often chosen for their elegance, gentleness, and poetic sound. Many of the names on this list have been popular in Japan for centuries, while others are more modern and unique. Additionally, many of these names have been popularized by Japanese pop culture, anime, and characters in popular manga.
Choosing a name for your baby girl can be a difficult decision, but we hope that this list of 100 Japanese girl names and their meanings will make the task easier. It reflects the beauty and depth of Japanese culture and can help you find a name that both represents your values and honors your little girl. Whether you're looking for a traditional name or something more creative and modern, you'll find it on this list. Enjoy exploring our collection of 100 beautiful Japanese girl names and meanings and finding the perfect name for your baby girl.
Japanese girl names are full of beauty, grace, and wisdom, reflecting the rich culture and history of Japan. These names often have fascinating meanings behind them, like "love", "blessing", "flower", "miracle" and many more. Japanese girl names are popular and have been used by parents around the world to give their baby girls a unique and meaningful name.
In this list, we've compiled 100 Japanese girl names, along with their meanings, for you to choose from. Whether you're looking for a name with a special meaning, a name inspired by nature, or simply a beautiful name that sounds elegant, there is sure to be a name on this list that will catch your attention.
100 Beautiful Japanese Names for Girls
Ai – Love
Aiko – Child of love
Akane – Deep red
Ami – Friend
Anna – Grace
Asami – Morning beauty
Asuka – Fragrance
Ayaka – Colorful flowers
Ayame – Iris
Ayane – Design
Chie – Wisdom
Chihiro – A thousand questions
Chika – Near
Eiko – Prosperous
Emiko – Beautiful blessing
Ena – Gift from God
Hana – Flower
Hikari – Light
Hiroko – Magnanimous
Hitomi – Pupil of the eye
Honoka – Harmony flower
Hotaru – Firefly
Ichika – One thousand fragrances
Inari – Shinto god of fertility, rice and foxes
Isako – Child of beaches
Izumi – Fountain
Juri – Lily
Kaede – Maple
Kaida – Little dragon
Kairi – Ocean village
Kana – Powerful
Kanon – Flower sound
Kaori – Fragrant
Keiko – Blessed child
Kiko – Chrysanthemum child
Kimi – Noble
Kioko – Happy child
Kira – Sparkling
Kiyomi – Pure beauty
Kohana – Little flower
Konami – Little wave
Kumiko – Long-time beautiful child
Kyoko – Mirror
Mami – True beauty
Mana – Affection, love
Manami – Love, affection, beauty
Mari – Real, true
Mariko – True reason
Mayu – True gentleness
Mei – Bright
Michi – Pathway
Miho – Beautiful, protected, goddess
Mikoto – Noble
Miku – Beautiful sky
Minako – Beautiful child
Mio – Beautiful cherry blossom
Mirai – Future
Misaki – Beautiful blossom
Misa – Beautiful sand
Miyako – Beautiful night child
Miyu – Beautiful gentle person
Mizuki – Beautiful moon
Momiji – Japanese maple
Nagisa – Beach
Nana – Seven, graceful wave
Nao – Honest
Narumi – Beautiful from the heavens
Natsumi – Beautiful summer
Natsuki – Summer hope
Natsuko – Summer child
Noa – My love
Riko – Jasmine, reason, child of truth
Rin – Dignified
Rio – Cherry blossom, village, or jasmine
Risa – Sand of a beach
Rumi – Beauty, flow, lapis lazuli
Runa – Truth, vegetables, or pure
Sachi – Joy
Saki – Blossom of hope
Sakura – Cherry blossom
Sana – Mountain, honesty
Sara – Cherry blossom of the morning
Satoko – Wise child
Sayaka – Clear
Sayuri – Small lily
Shiho – Poetry and beauty
Shiori – Bookmark
Subaru – Unite
Suki – Love
Sumika – House of refined beauty
Sumiko – Child of goodness
Suzu – Bell
Suzume – Sparrow
Taeko – Child of many blessings
Takako – Noble child
Tomoe – Wisdom, blessings
Tomoko – Intelligent child
Ume – Plum blossom
Yua – Binding love
Yumi – Bow, long beauty, reason.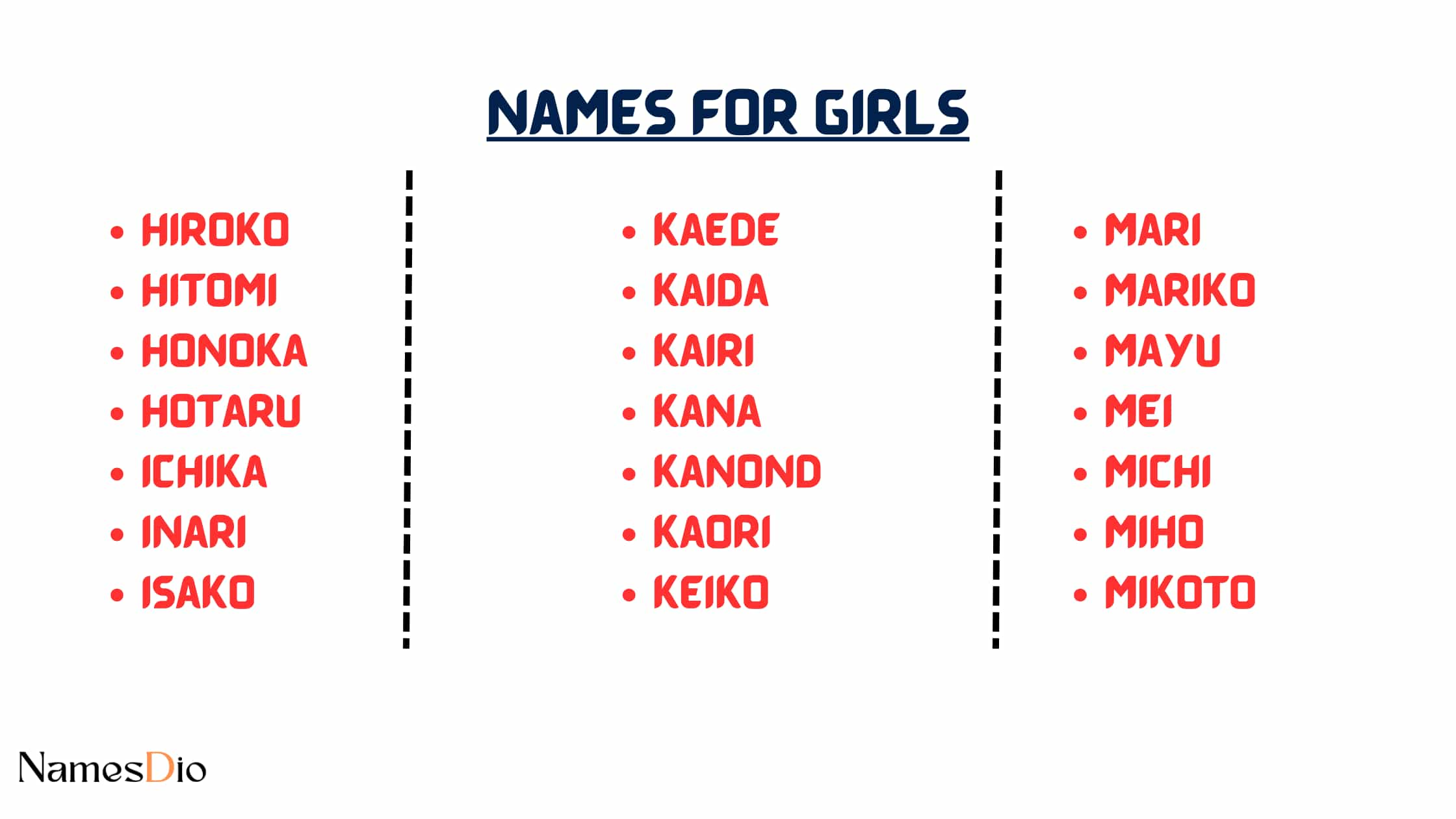 FAQ 
Are Japanese Girl Names Difficult to Pronounce for Non-Japanese Speakers?
Some Japanese girl names may be difficult to pronounce for non-Japanese speakers, but many are pronounced similarly to English names. It's always a good idea to listen to the name being pronounced online and practice saying it yourself to become familiar with the pronunciation before making a final decision.
Do All Japanese Girl Names Have a Specific Meaning?
Most Japanese girl names have a specific meaning or symbolism attached to them, often reflecting nature or virtues. These meanings can make the name even more special and meaningful to parents.
Are Japanese Girl Names Suitable for Babies of Any Ethnicity?
Yes, Japanese girl names are suitable for babies of any ethnicity. Many people around the world appreciate and have adopted Japanese culture, and thus have chosen these types of names for their babies.
Are There Any Japanese Girl Names That Are More Traditional Than Others?
Yes, some Japanese girl names are more traditional than others. Names like Hana, Shiori, and Tomoe have been popular for years and have a strong connection to Japanese culture and tradition.
Can Japanese Girl Names Have Multiple Meanings?
Yes, some Japanese girl names can have multiple meanings. For example, the name Ayaka can mean "colorful flowers" or "fragrant flowers," depending on the kanji used to write it.
Conclusion 
The list of 100 Japanese girl names and meanings offers a fascinating glimpse into the rich and beautiful culture of Japan. Each name has its own unique meaning, reflecting important virtues, aspects of nature, or historical events.
Japanese girl names are well known for their beauty, poise, and gentle nature, making them a popular choice for parents around the world.