Greek mythology is rich with captivating tales of gods, heroes, and mythical creatures. The names inspired by these stories hold both historical and cultural significance.
If you are expecting a baby or simply curious about Greek names, this compilation of the top 101+ best Greek mythology baby names will serve as a source of inspiration. Each name boasts a unique story behind it, making it a special choice for your little one.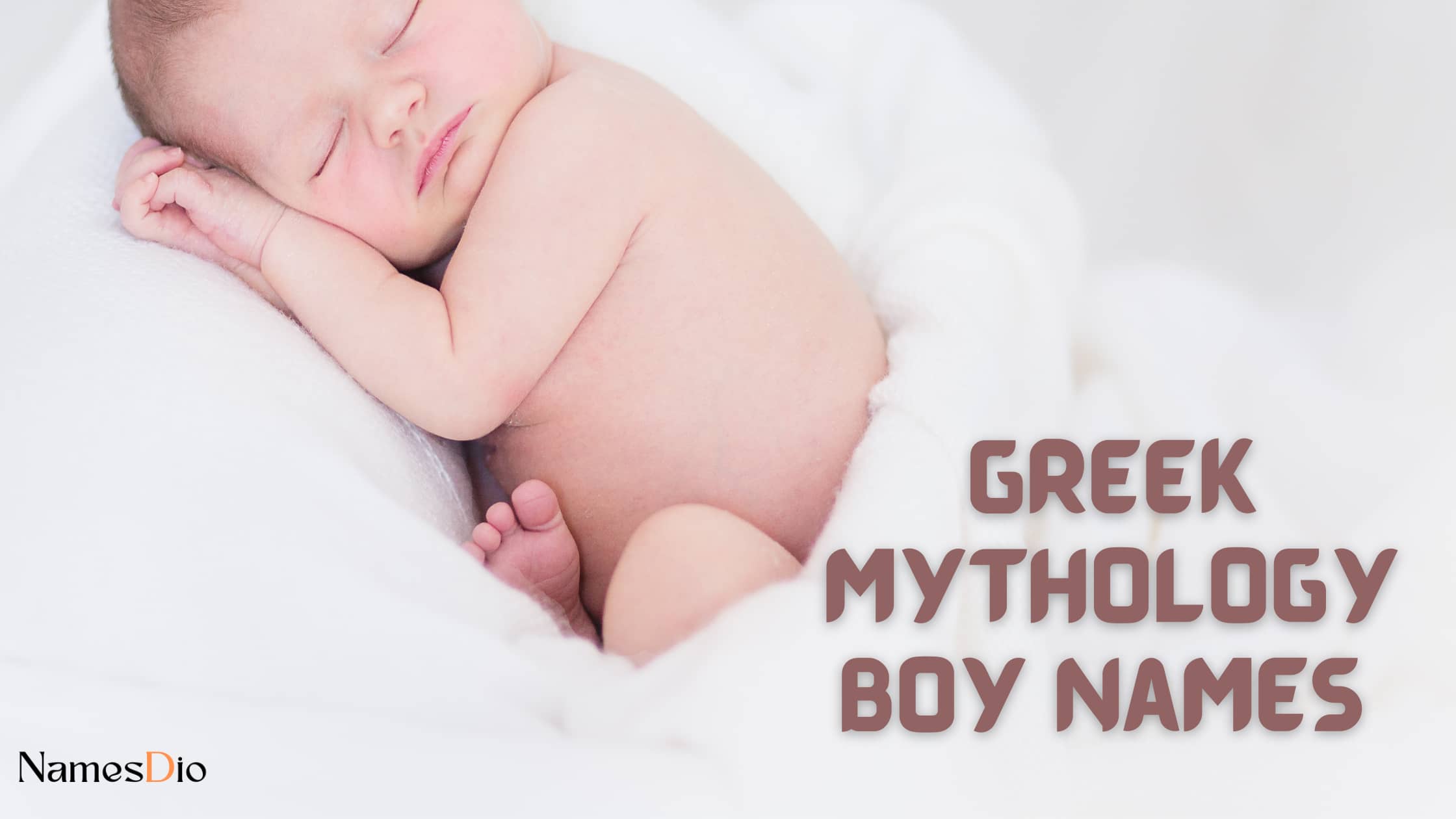 101+ Greek Mythology Boy Names 
Certainly! Here are the top 101+ Greek mythology baby names for your consideration:
Achilles – Hero of the Trojan War
Adonis – Handsome youth loved by Aphrodite
Agatha – Good-hearted
Agathe – Good
Ajax – Heroic warrior in the Trojan War
Althea – Healer
Ambrosia – Food of the gods
Andromeda – Ruler of men
Aphrodite – Goddess of love and beauty
Apollo – God of music, healing, and prophecy
Ares – God of war
Ariadne – Noble, pure
Artemis – Goddess of hunting and the moon
Athena – Goddess of wisdom and warfare
Atlas – Enduring, bearer of the heavens
Calliope – Beautiful voice
Calypso – Hidden one
Cassandra – Prophetess
Castor – Savior, star
Clio – Glory
Cronus – God of time
Daphne – Laurel tree
Demeter – Goddess of agriculture and harvest
Dionysus – God of wine and celebration
Echo – Repeating voice
Electra – Shining, bright
Eros – God of love
Gaia – Earth goddess
Hades – God of the Underworld
Harmonia – Harmony, agreement
Helen – Shining light
Hera – Queen of the gods
Hercules – Hero known for his strength
Hermes – Messenger of the gods
Hestia – Goddess of the hearth and home
Hypatia – Highest
Icarus – Failed aviator
Iris – Rainbow
Jason – Healer
Jocasta – Cheerful
Juno – Queen of the gods
Kallisto – Most beautiful
Leda – Woman of Sparta
Medea – Cunning, sorceress
Mentor – Wise advisor
Morpheus – God of dreams
Narcissus – Self-love
Nike – Goddess of victory
Odysseus – Hero of the Odyssey
Orion – Hunter
Pandora – All-gifted
Paris – Lover of Helena
Penelope – Weaver
Persephone – Queen of the Underworld
Perseus – Slayer of Medusa
Phoebe – Bright, radiant
Poseidon – God of the sea
Prometheus – Forethought, creator of mankind
Psyche – Soul
Selene – Moon goddess
Styx – Goddess of the river of the Underworld
Theseus – Hero who defeated the Minotaur
Thetis – Sea nymph
Zeus – King of the gods
Agapi – Love
Aikaterini – Pure
Alexandros – Defender of mankind
Amara – Unfading, eternal
Ariana – Most holy
Aris – Best
Athena – Wise, goddess of wisdom
Charis – Grace
Chloe – Young green shoot
Daria – Wealthy, possess well
Despina – Lady
Dimitri – Devotee of Demeter
Elektra – Bright, shining
Elene – Torch, light
Eleni – Bright, shining
Estelle – Star
Evangeline – Good news bearer
Filia – Friendship, love
Georgia – Farmer
Harmonia – Agreement, unity
Helena – Light, torch
Iason – Healer
Ioanna – God is gracious
Iphigenia – Born to might
Iris – Rainbow
Kalliope – Beautiful voice
Kassandra – She who entangles men
Katerina – Pure
Konstantina – Steadfast, constant
Lysandra – Liberator
Melina – Honey
Nefeli – Cloud
Penelope – Weaver
Persephone – Destroyer of peace
Petros – Rock
Sophia – Wisdom
These names from Greek mythology carry a sense of beauty, power, and timeless charm. With their unique meanings and rich cultural significance, they make wonderful choices for your little one. Happy naming!
FAQ
1. Why should I consider Greek mythology baby names?
Greek mythology spans centuries and offers a diverse array of characters with fascinating stories. Choosing a Greek mythology name for your baby can give them a strong and distinctive identity, while also connecting them to a rich cultural heritage.
2. Are Greek mythology names still popular today?
Absolutely! Many Greek mythology names have stood the test of time and continue to be popular choices for modern parents. These names carry a classic appeal that remains relevant in contemporary society.
3. What are some popular Greek mythology names for boys?
For boys, names like Zeus, Apollo, Hermes, and Orion are widely recognized and loved. These names exude power, strength, and tales of heroism that would befit any little adventurer.
4. Are there any Greek mythology names suitable for girls?
Greek mythology offers numerous beautiful and strong names for girls. Some popular choices include Athena, Persephone, Artemis, and Aphrodite. These names symbolize wisdom, grace, and a touch of magic.
5. Can I combine Greek mythology names for a unique baby name?
Absolutely! Greek mythology offers a plethora of captivating names, and combining them can create a unique and meaningful name for your little one. Let your imagination run wild and blend the stories of gods, goddesses, and heroes to craft a one-of-a-kind name that resonates with you.
Conclusion
Greek mythology provides a treasure trove of captivating and meaningful names for your baby. Choosing a name from this ancient world allows you to honor the fascinating stories and rich culture that have stood the test of time.
Whether your little one grows up to be strong-willed like Athena or possesses the charm of Aphrodite, a Greek mythology-inspired name is sure to evoke a sense of wonder and adventure throughout their life.